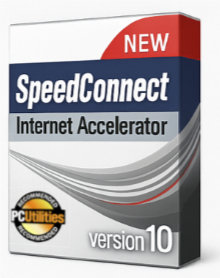 SpeedConnect Internet Accelerator

For Windows® 7, Vista™, XP.
Software to speed up your internet connection. You can use this network optimizer to speed up your Dial-Up Modem, DSL, Cable, Wireless and LAN internet connection.

SpeedConnect Internet Accelerator is a Windows application designed to optimize and speed up your network connection and all your internet related activities. This translates into a faster internet connection, faster browsing and email, faster downloads, faster online gaming, improved Skype connection.

Easy, safe and fast optimization of your existing internet connection.
FASTER internet connection

Browse FASTER
Send and receive e-mail FASTER
Download and upload files FASTER
Play online games FASTER
Improve Skype connection
NO adware, NO hardware installation
NO service subscription, NO monthly fees
NO new hardware installation
Features :
Optimizes all internet connection types
User friendly
Quick Optimizer option
Advanced Customization
Tool and Wizards
Load/Save Settings
Optimization Report
Connection Analyzer
Speed up your connection in 2 minutes
IMPORTANT!
SpeedConnect requires Microsoft .

NET Framework

2.0!
If you cannot run SpeedConnect after installation,
Cara aktivasi SpeedConnect Internet Accelerator 8.0 :
Download dan instal SpeedConnect Internet Accelerator 8.0 full crack.
Copy dan paste 2 file crack (SpeedConnect Internet Accelerator.exe dan SpeedConnectStartUp.exe)yang sudah saya sertakan dalam paket download.
Selesai, kini SpeedConnect Internet Accelerator anda sudah full.